... and the Leasebreakers
Breaker of leases, strings, and jug band world's records, "... and the Leasebreakers" performs primarily at lease-breakings with free food, folk festivals, cowboy poetry and music festivals, worthy benefits, fun gatherings, and parties with free food.


The first Jug Band Folk Harper.
The greatest number of simultaneous, harmonious Jug Blowers.
The first Jug Band to provide live musical accompaniment for a silent film.
The first Jug Band to feature five-part gargle harmony.
The first Jug Band to feature a cow solo during performance.
The first 3D jug animation on a WWW page.


Members of "... and the Leasebreakers" have been playing together for over thirty years and the jug band has had several previous monikers, including "The Canarsie Swamp Stompers" and "The International Zing King Top-Notch Soul-Saving Sanitary Front-Drain Rubber Band."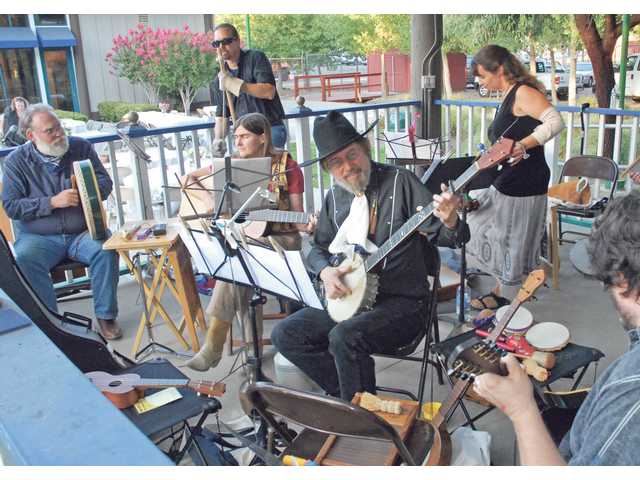 ...and the Leasebreakers' 2009 Silent Film Gig



Frequently Asked Question:
Why can't I find any CDs, LPs, 78s or Gramophone recordings of "... and the Leasebreakers"?

Ken (of "Kenny and the Leasebreakers") replies:
There is a good reason for this --- we don't record commercially. Yeah, our live performances have been taped by fans* and we were once lured into a recording studio with a promise of eight pizzas. (It was to record the music for an educational CD-ROM for Time-Warner. The CD-ROM was never released, but we got the pizzas anyway.)

Our version of Jug Band Music is meant to be heard live and, preferably, unamplified. We don't trust ourselves around microphones as we've been known to swallow them. (Our instrumental philosophy: "If we can't eat it, we play it. If we can't play it, we eat it.")

We make ourselves VERY available to play, though. People who want to hear us play just throw a party and yell "free food". We're there in a flash with our brand of non-stop Jug Band Music.
*Note: The snippets you find on the Sounds of "... and the Leasebreakers" page are from those bootleg recordings of live concerts. Fidelity is only as good as the original sources (for example, some are derived from the soundtrack of 8mm camcorders with built-in microphones).


Check It Out:

---



[Copyright ©1996-2009 Dr. Jody Paul]